Getting a promotional item to represent your company is always a challenge. It needs to be something that people will want to keep and use, but at the same time stand out from the crowd – and of course not break the budget.
This year we have received some really high quality entries for the Best Promotional Give-Away Competition and to give each entry the best chance, we asked each entrant to provide a short explanation of the objective and how the give-away was used, i.e. to launch an event.
Voting took place on Thursday 28th November at the Gala Dinner.
Congratulations to Built for Marketing.
---
Built for Marketing – BEANIE – WINNER

The Built For BEANIE was created for an event in France. The project tour is exclusively about external architecture and the Built For BEANIE is designed to ensure everyone is easily recognisable in a fun way while staying warm.
The Built For BEANIE has a handmade pompom crafted and stitched by Office Manager, Sue Smith. The Architectural Tour is in Arras France on 29th and 30th November 2020.
---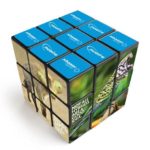 Nuaire – Rubik's Cube
The hybrid ventilation market was a new market for us so our campaign was designed to be show-stopping and eye-catching. Sometimes, these types of campaigns have a limited life before they disappear out of a customer's mind as they forget the product and just remember the campaign. Our Rubik's Cubes were designed to be something that would stay on a customer's desk for some time, acting as a fidget device and keeping us in the customer's minds.
---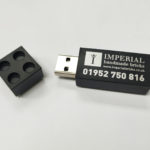 Imperial Bricks – Brick USB
Imperial Bricks needed a fun but functional promotional item to give away during CPD seminars to architects and specifiers; attendees are asked to participate in quizzes and interactive games for a prize, and the 'brick' connection always raises a smile!
---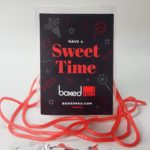 BoxedRED Marketing – Sweets
Working with Boxed Red means our clients are never left with a bitter taste in their mouths, and in the same way, our tried and tested giveaway is proven to hit the sweet spot! Used as an added value leave behind, we always ensure we whet our clients appetites for more!
We want everyone to have a sweet time tonight, but hope that the sweet taste of victory is ours!
---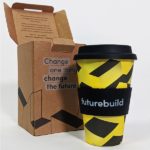 FutureBuild – Keep Cup
The key message of Futurebuild 2020 is that a simple change can make a big difference. The Futurebuild keep cup was an exhibitor promotion and was used to demonstrate that in the same way a reusable drinks cup will reduce waste, taking a stand at Futurebuild 2020 will make a difference to exhibiting organisation's business. The keep cups were sent to our exhibitor prospects and database in a self-mailed, recyclable box.
---
Northstar – Lego Bricks
This interactive giveaway was used to announce the merger of two businesses (Lagan and Breedon) into one brand at a The Builders Merchants Awards in 2019.
This LEGO challenge was very well received, with 85% of LEGO sets generating a completed Number 1 model and 10 tables winning a Hamper. This initiative created engaging social content, as well as provoking much discussion amongst senior industry professionals on the evening
---
Bluebeam – Phone Pop-Socket
These phone pop-sockets not only serve a functional need, but the branding and packaging serves as an ad-extension to a campaign Bluebeam launched in the Fall of 2019 titled 'Bluebeam Builds the World.' Depicted on the package is Revu software overlaid on an iconic skyscraper to show how the software assists in building the world. The branding on the pop-socket itself is kept simple to be suitable for everyday use.
---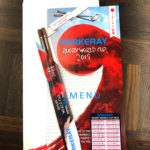 Parkeray – Reusable Chopsticks
To engage clients in the Rugby World Cup tournament, Parkeray served up branded reusable chopsticks and menu style planners as a promotional giveaway to 1,300 clients.
The campaign created a buzz amongst our client base and provided the opportunity to track each stage of the tournament from start to finish.
---
A Proctor – Magnetic USB
Our magnetic USB sticks are our most popular freebie at events and exhibitions. They're a hit with our clients and sales team alike for several reasons: they are light-weight and easily transportable, they are a useful (and stylish!) accessory to have and, because we can load all of our essential marketing materials onto a single device, it becomes a convenient information resource for our clients
---
BECG  Desk Plant
Biophilic Design is all about bringing the human love of nature into the workplace, and as a result, is proven to help reduce stress. All you need to do is add water and plant the seed. These desktop plants were used as giveaways at industry events to remind attendees of BECG's stress-free PR and Marketing services – even the Secretary of State took one away
---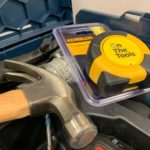 On The Tools – Tape Measure
Tape measures always come in handy. With an anti-glare yellow blade and compact rubberized case this tape measure is both sturdy and eye catching.
On The Tools is the UK's largest online construction community, with over 3.4million followers on Facebook alone.
On The Tools is a key part of the Electric House social media and publishing agency.