The winners of the 2022 Construction Marketing Awards were announced on December 1st at a glittering ceremony in London. The finalists gathered at what was the biggest presentation dinner in the 22 year history of the Awards to celebrate their achievements, see some old friends and make new ones at what everyone knows is the best party in UK construction.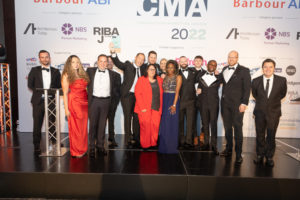 ROCKWOOL UK (right) took the Marketing Team of the Year prize. Judges said they were a highly capable marketing team who look like they are leading the industry in terms of their in-house mar-tech capability. Their great innovation, and great inclusive
personal development had led to great results.
WAA Chosen took home Agency of the Year for the first time, their remarkable performance over the last year caught the eye of the judges, as did their drive to achieve on behalf of their clients, and their talent development programme – partly demonstrated by Jen Mitchell from the agency snapping up the Emerging Agency Star award.
James Latham (pictured left), aided by The Think Tank, Ginger Digital, and Cyon Agency took home the most trophies, with their digital showroom campaign winning Best Big Budget Campaign and Best Distributor Marketing Campaign, and picking up a Highly Commended in Best use of a Website.
The winners of that category, Heatic, working with Ridgemount, also picked up two awards. In addition to the website category they won Best use of Direct Marketing for their forensically targetted lead generation and fulfillment campaign.
Pexhurst, working with Fabrick, won two as well, they picked up Best Contractor Marketing Campaign and Best Low Budget Campaign. Fabrick also helped Jenner win Best use of Press and Public Relations, while picking up the Best Digital Campaign gong for their elegant 'Fabrick Talks' campaign.
Mace went home with two trophies, picking up a Highly Commended in Best Stakeholder/Internal Campaign, and winning Best Professional Services Marketing Campaign. In a battle of construction consultancy giants BDP were Highly Commended in the latter.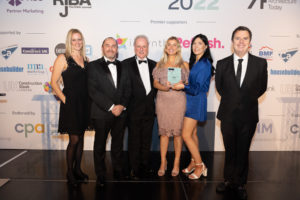 Refresh (right, with FEIN) visited the stage twice, their work with FEIN winning Best Mid-Range Budget Campaign, and that with Etex, a docuseries following the construction of a major new plant, picking up Best use of Content Marketing.
Doing something very hard – winning at their first attempt – were Castle Green Homes for their excellent campaign in Best use of Marketing Technology, The Armstrong Partnership's (below, left) work for Knauf Ceiling Solutions in Best International Campaign, and CB Heat Pumps working with Let's Run Social in Best use of Social Media. In a year characterised by new faces among the winners, On The Tools picked up their first CMA in Best use of Thought Leadership for their inspirational "Women on the
Tools white paper", while Siderise's work with Smith Goodfellow in the prestigious Strategic Planning & Management category was that combination's first win.
Another first time entrant, Valspar Trade (below right), picked up Best use of Events & Live Marketing, albeit with the support of serial winners CIB, for their excellent campaign touring colleges talking to the next generation.
PR Agency of the Year went to Unhooked Communications, with Small Agency of the Year going to Built for Marketing, in recognition of their daring bid to become a multi-national.
Bradfords Building Supplies, working with the Good Eggs, won Best use of Advertising for an incredible third year in a row, while CCF, with One Agency, became a two-time winner of the Best Stakeholder/Internal Campaign award, having last won it in 2020.
Rachel Goodacre of Jacobs scooped Young Marketer of the Year, with Giulia Papi of innDex Highly Commended in that category.
See the full list of winners and their entries in our Awards Gallery, or see all the photos from the 2022 presentation!